The California Air Resources Board on Thursday awarded five individuals a special 50th Anniversary edition of the
Haagen-Smit Legacy Award for outstanding contributions to improving air quality.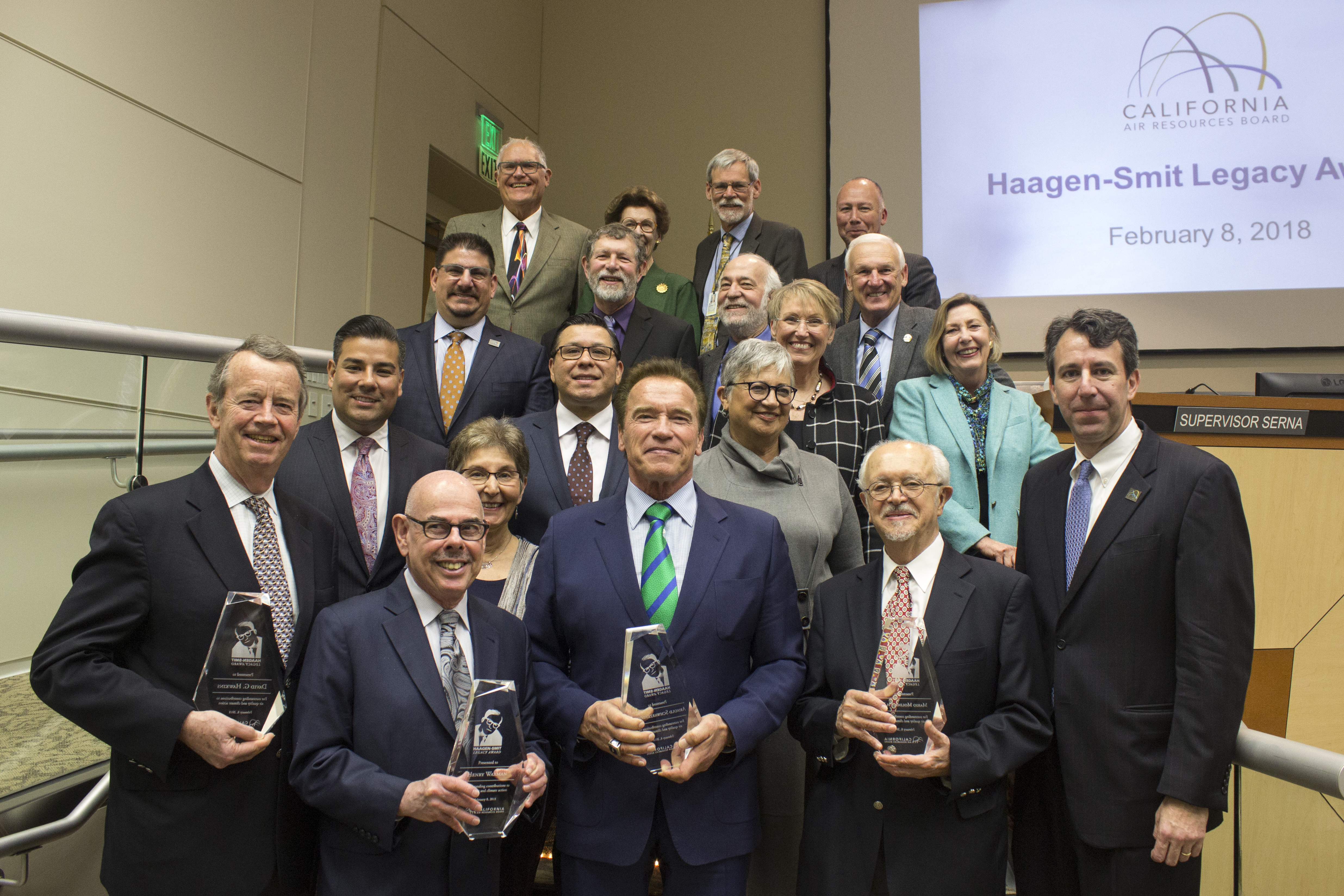 Photo Credit: California Air Resources Board
The five honorees included former Governor Arnold Schwarzenegger for his work in addressing climate change.
Previously known as the Haagen-Smit Clean Air Award, it was renamed as the Haagen-Smith Legacy Award in honor of its 50th Anniversary. The annual award is considered by many to be the Nobel Prize for air quality and climate change achievements.
"Our honorees span the past 50 years of progress toward clean air. Each played a leading role in this struggle for clean air and a healthy economy," CARB Chair Mary D. Nichols said. "Individually our honorees have conducted ground-breaking research or shaped pioneering clean-air policies. Together, these five remarkable individuals are being recognized for their leadership, courage, and innovation. Californians owe them a debt of gratitude for their contribution to improved public health in California, across our nation, and throughout the world."
In addition to Schwarzenegger, others honored included:
David G. Hawkings,

Director, Natural Resources Defense Council's Climate Center
Henry Waxman, Former U.S. Congressman and current Chairman, Waxman Strategies
Mario Molina, Ph.D., Distinguished Professor of Chemistry and Biochemistry, Scripps Institution of Oceanography, University of California, San Diego
Gina McCarthy,

Professor of the Practice of Public Health, Department of Environmental Health, Harvard T.H. Chan School of Public Health; Director, Harvard's Center for Health and the Global Environment
For more details, including a summary of each honoree's achievements, click on the following link:
2017 Haagen-Smit Legacy Awards